We offer full architectural services in line with the RIBA Plan of Work, from initial design consultations to overseeing construction on site.
Brief & Feasibility
This is an exciting and important stage. The success of every project relies on establishing a clear brief. You may have a very distinct sense of what you want to achieve or you may need our guidance. We will listen to you and ensure we fully understand your needs and hopes for your project. We will apply our experience and observations and advise on the opportunities and challenges offered by your project. There is a lot of fun to be had defining the brief and testing a project's feasibility.
We will advise on the need for consultants on your project including structural and service engineers, cost consultants, landscape designers, etc. We have a network of excellent professionals that we have worked with in the past and can recommend to you.
Concept Design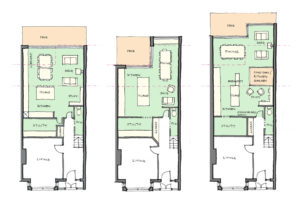 Once the brief is agreed we will prepare a number of sketch design options for your review. This will allow you to identify your preferred design solution, which will most likely be a combination of the options presente
d. This stage is where design ideas are tested and pushed to their limits.
The concept design drawings will be used to allow
outline proposals for structural design, building services systems,
outline specification and preliminary cost information to be prepared by the relevant consultants. In the development of the concept design we can provide services to ensure all information generated by the other design team consultants is fully coordinated.
Once the scheme is agreed we can progress to the next stage of obtaining the necessary consents.
Statutory Consents
Most building work requires some sort of permission to be granted before it can proceed. These could include permitted development, party wall consent, planning permission, landlords consent, listed building consent, building regulations approval. We have experience in making these applications as well as extensive experience liaising with London planning authorities.
Detail Design & Tender
At this stage we prepare detailed information including drawings and specifications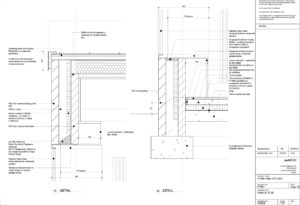 of the fully developed design. The detailed design documents give sufficient information to get accurate estimates from contractors to price for your work. We can also provide services to coordinate the information produced by the other consultants.
We work entirely on your behalf and will guide you through the process of selecting a contractor to complete your project.
Project Management & Contract Administration
We can provide project management services for your project from developing the brief, as described above, right through to the completion of the building work, to ensure the smooth running of the project.
We can assume the role of contract administrator to assess what work has been done on site in order to prepare valuation certificates which show what you need to pay. We can also manage changes at this stage, issuing variations to the contract where required.
Construction
We keep close contact with operations on site and take particular care when dealing
with the day to day site issues to maintain the project's overall design vision. We can act as liaison between the contractor team and you, the client.
Completion & Handover
We will help make sure all the final details are finished properly and prepare a snagging list of anything that is unsatisfactory for the builder to put right before he receives his final payment.
Studio seARCH also offers additional services including:
Model making and 3D visualisations
Making submissions to and negotiating approvals by landlords, freeholders, etc.
Services in connection with party wall negotiations
Bespoke furniture design