We undertake residential projects across London and throughout the UK. We are currently accepting enquiries on work on new build houses, renovations, internal remodelling and extensions. Our particular experience includes listed homes and properties in conservation areas.
Scroll down to see some examples.
King Henry's Yard
This whole house remodel in Stoke Newington pushed the limits of what can be achieved within the walls of an existing house. No extensions were added but rather the clever reorganisation of the space transformed this house.
Park View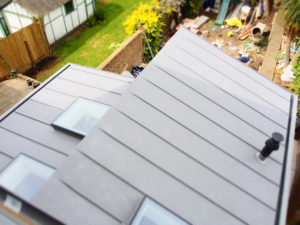 A beautiful Victorian semi-detached property, Park View was a house that just did not function for the clients growing family. The project involved a ground floor remodel and dormer loft conversion.
The existing ground floor extension was tired and out-dated with a poor layout and although there was a bedroom in the loft, the existing geometry did not maximise the floor space.
Working within permitted development rights we were able to increase the ground floor footprint by 12sqm and add a dormer extension to the roof. A few simple moves created much improved flow and layout, including a large internal pantry and utility room, an under-stairs toilet and a large living area which now houses a study area, large open kitchen, dining area and snug/library.
Blackstairs
The farmhouse at the Blackstairs was in a state of disrepair when our clients stumbled across it nestled at the bottom of a mountain. They wanted to breathe new life into the old house but it was very important to them that they remain true to the original vernacular style.
The original structure was retained as far as possible. The cement render was chipped off to reveal the beautiful original stonework beneath. The central portion was in such a weak state that it had to be wholly rebuilt.
This rebuilding allowed for a new dramatic space to house the living room. Although from the outside this appears to be traditional and of similar scale to the rest of the building, but opening up the roof space and adding a roof light astride the ridge a space of much grander proportions to be created internally.
The Cow Byre
Originally an outhouse for farm animals, the Cow Byre was in a solid structural condition, but needed a complete overhaul to make it habitable.
Cafe in the Garden
Sara was project architect for the Brown Hart Gardens scheme when she worked at BDP. Completed in 2013 it won several awards, including commendation for Best New Public Space in the London Planning Awards 2014.